Queen size mattress
75" x 60"x 5" Inches
Looking for a higher degree of back support? Try Back Magic - a doctor recommended orthopedic coir mattress. Optimised for better sleep, this mattress has a tough core of high density coir and rebonded foam to relax the muscles and have your body feel well-supported and comfortable. Part of the Duropedic range, it features the exclusive 5 Zoned Orthopedic Support Layer that is tested and recommended by doctors at the National Health Academy, making it India's best orthopedic mattress.
 FEATURES
Ventilation
Side Reinforcement system
5 zoned full prone back support
Heat absorption technology 
Memory foam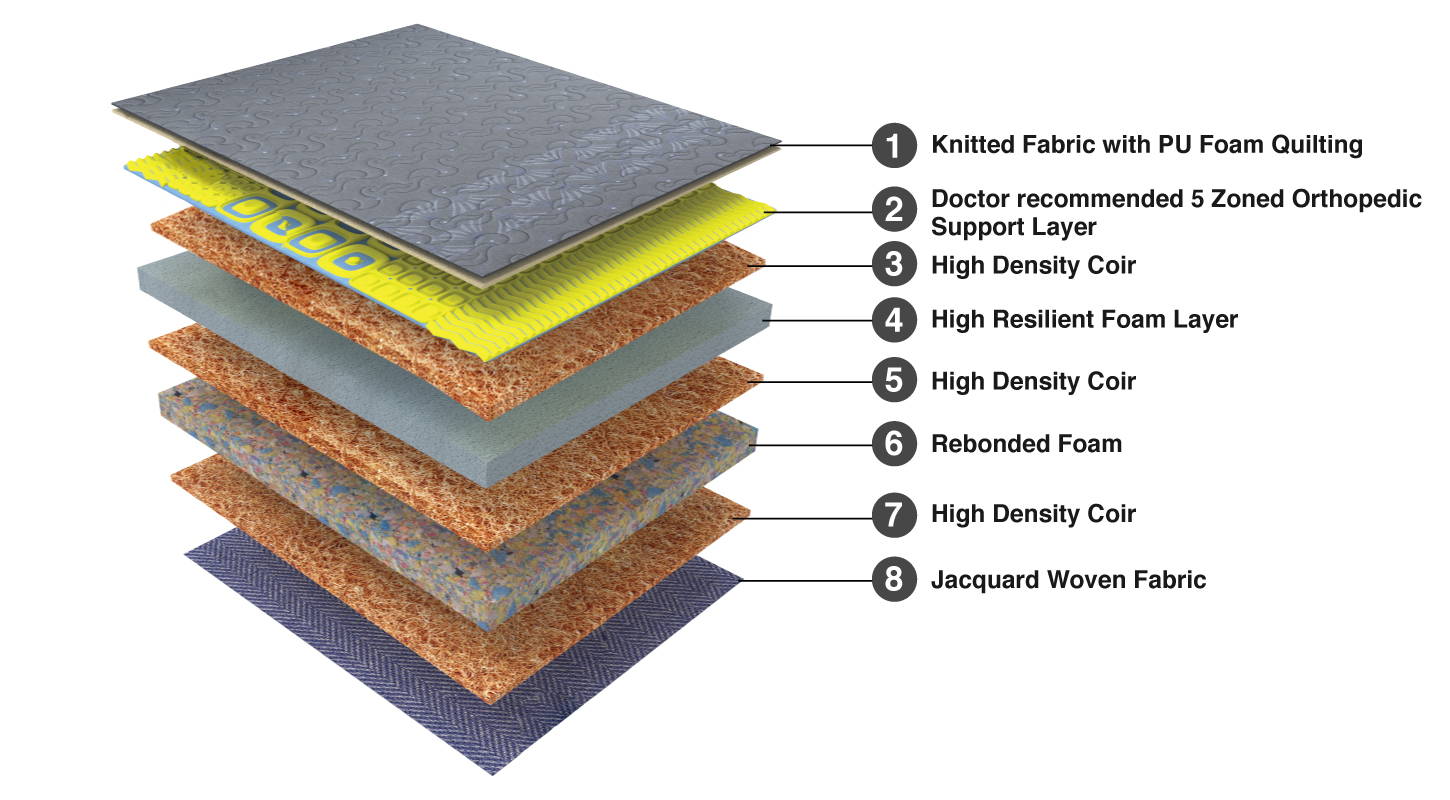 Health Benefits
Provides back pain relief by eliminating undue stress on spine and back

Alleviates body pain by offering a firm support and supporting all pressure points

Promotes healthy posture alignment by providing a well engineered, stable and even surface for rest
Advantages of Coir Orthopedic Mattress
An orthopedic memory foam mattress is ideal for people in need of a more personalized and firm sleep support. While the 5 zoned orthopedic support layer offers differentiated support to different body parts as per their weight. The high density coir layer adds to the same by offering a sturdy support with natural air ventilation across the mattress. Such an ergonomic design of the Duroflex orthopedic mattress makes it a reliable choice for those looking for back pain and pressure relief in a mattress designed to stay fresh and hygenic for long.
How to pick the correct size?
We have made the mattress available in all of the standard sizes starting from single to double, queen and king with the option of placing an order for a custom size Duroflex Back Magic mattress as well. The orthopedic mattress prices vary depending on the size you choose. You can refer to our Size Guide for more details and an in-depth understanding of the size most suitable for your bed.
OTHER INFORMATION
 Some items (Books,and other decor) shown in the picture will be not included in the product delivery package. 
Due to the many variations in users browsers or display brightness, the colors shown on our products may appear contrasting on different devices * It is not possible to guarantee that the material or fabric colors on our online stores product pictures will appear the same on all devices.